---

Other Informatiion
Webpage Archives: 2002 2003 2004 2005 2006 2007 2008 2009 2010 2011

---
Installation " Under the water"
Kamel Mennour, Paris
10/Dec. 2011 〜 25/Jan. 2012
The Installation was fixed the broken furniture on this structure .
This set up at 2,5 m high inside , outside of the Gallery.
People walk under the broken furniture .
It looks like a floating ,,.
---
"Workshop at Hochshule Luzern, Swiss"
Hochshule Luzern
15,16/Dec.2011

Architecture school in Luzern invited for the Lecture and one day workshop .
---
"Workshop Camargue (2) (LES SENTIERS DE L'EAU - WATER PATH 2)"
Marseille-Provence 2013. Fundation France. Parc de Camargue. Musee de Camargue.
13/Nov.〜19/Nov. 2011
It was 2nd time of the workshop at Camargue.
This time , we planed the public structure near Museum Camargue.
This will be happen at September or October .2012.
---
"Workshop at Bergloon, Belgium."
Z33- huis voor actuele kunst, Hasselt. Belgium
From 12/Sep. 〜24/Sep. 2011 
2 weeks workshop at the town of Borgloon in Belgium with 20 art and architecture students.
Study , planning and construction at site .
---
"Workshop Camargue ( 1 ) "
The project "Camargue" was start.
It will be 3 years continue to work at 6 specific site in Camargue
from 2011to 2013. This time was happen only workshop with students.
In this autumn , it will be start to construct the structure at site .

---
"Cergy Pontoise Art commission work"
Wood tower construction . It was Art commission competition
in the city of Cergy Pontoise at 2007.
I got it but it was long time wait for the realization.
Finally this year was completed.
---
"Public Art Program of Rivers de Saone, Lyon"
"Lyon la saone" 2011〜2013
6 site specific art works will set up beside the river Les Saone
in Lyon from 2011 to 2013.
Under preparation .
---
"Paris Commission work at Champs sur Marne"
It will start the construction from 2012.
---
"HOKKAIDO IN PROGRESS", Mikasa project "
Art project will start at local school in the city of Mikasa, Hokkaido.
For this project will be long term schedule.

http://hokkaidoinprogress.jimdo.com/
---
"Cite National de l'histoire de l'immigration" Plan
project for the Cite National de l'histoire de l'immigration, Paris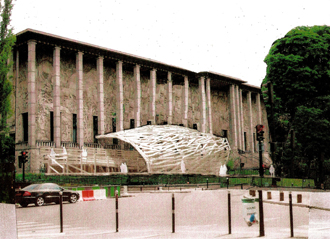 ---
"Chaumont sur Loire Project"
Chateau de Chaumont
08 April 2011- 10 November 2011

Demaine de Chaumont sur Loire (Multi-language)

---
"Tokyo in Progress"

From March 2010 -

Tower Construction project alongside the Sumida River.
with making some work places to think about and see the City of Tokyo.

 Project 01: Dialogue about Tokyo 01
 2-5 March 2010 3331 Arts Chiyoda
 Talk session program about Tokyo with reserchers and artist, architect.
 Guest: Ryuta Imafuku, Shunya Yoshimi, Akira Takayama, Eiji Hato, Eishi Katsura, Kengo Kuma,

 Project 02: Workshop
 From November 2010-

 Project 03: Tower Construction
 From 15 January - March 20 2011


To the TOP of this page
---
About the publication, please visit our Publication page.

---
*DO NOT USE WITHOUT PERMISSION*